Hold on to your seats ladies and gentleman, because Mike Ashley is actually selling up at Newcastle.
Yes, the riches of Saudi Arabia are heading over to Tyneside - they've even filed legal paperwork would you believe - ready to part with £300m in order to send Ashley and his Sports Direct chums packing. And the best bit is, for Newcastle fans (well, those who only worry about on-field matters at least) is that there's plenty more dosh to come.
That's because Newcastle's prospective new owners have billions of pounds (literally) tucked away in the bank, and they're now ready to transform the Magpies from mid-table mediocrity into the Premier League's next biggest thing.
Several big name bosses have already been linked with taking over at the club while Mauricio Pochettino is the latest to be lined up for a big money approach. Inevitably, that's pressed some 90min editorial Football Manager nerd buttons. So much so in fact that we've decided to do the only logical thing in this situation - kick Ashley out, give Newcastle a warchest of money, appoint said managers (you'll find out who they are shortly) and let the good times roll.
We've picked the five biggest names linked with the gig and observed how their Tyneside careers will pan out - looking at the results, competition progress and absolutely mad transfers that happen along the way.
Here's how it played out, starting with Chris Deeley keeping good old Steve Bruce in the hottest seat in town...
Steve Bruce [Chris Deeley]: There's nothing like a bit of consistency, right? All this chop and change is a fine strategy for dealing with journalists, but that's not how we want to run our football club. We're keeping the man made entirely of Bovril in charge as our first test, and we're giving him a nice Brucey bonus of £200m to splash.
Always nice and chill, our Steve. He's barely spent half of that – most of it on an £83m move for Fede Valverde, who's basically a Uruguayan Longstaff – and biffed off two squad players to Genk. He did give Rob Elliot a new contract though. So we're going into this season with basically the same team, plus a teenage Championship defender and Fede Valverde. Good. Like we said, we like continuity. We'll check back after the January window to see if we've managed to ease another big name into the squad then.
- Steve Bruce was sacked by Newcastle on 7 December after a 2-0 defeat to Arsenal, with the club 12th in the league. Karl Darlow was the only player averaging a rating of 7.00 or who played more than two games.
Ah.
---
Massimiliano Allegri [Chris Deeley]: Right. Okay. Stuff it, we knew Steve Bruce was never really going to work out, not with megabucks to spend. Let's bring in a champion, a winner, someone who's overseen a transfer outlay of nearly a billion (!!!!) euros in his career. Let's bring in Massimiliano Allegri.
Feeling much better about this one, really. Probably won't raid someone for a new striker immediately, not with Joelinton just in the door, but a Juve fringe player for a little chunk would be lovely. How much do they really need Bernardeschi?
Wait... What do you mean we didn't sign anyone. What the PAUL DUMMETT do you mean we didn't sign a single player this summer?
We sold DeAndre Yedlin! We sacked Matt Ritchie off to Everton on loan! We had £200m to play with, a squad that needed improvements, LITERAL MAX ALLEGRI IN CHARGE, and we didn't sign anyone.
[I'm just going to speak directly for a second: I've gone back through all of the settings, made sure I'd set the budget right, made sure I hadn't put some kind of wacky transfer embargo in place. I've got nothing. The only transfer story on their news page was a rumour linking them with an £18.25m deal for Josef Martinez. I was utterly convinced I'd done something to break the game but no, I have no idea why Newcastle had an entire summer to spent £200m and didn't sign a single human being]
Did it work? Not really, no. Ninth place isn't appalling, it's about in line with expectations, but there's a gaping 13-point jump up to Spurs in 6th place. We've drawn more games than we've won.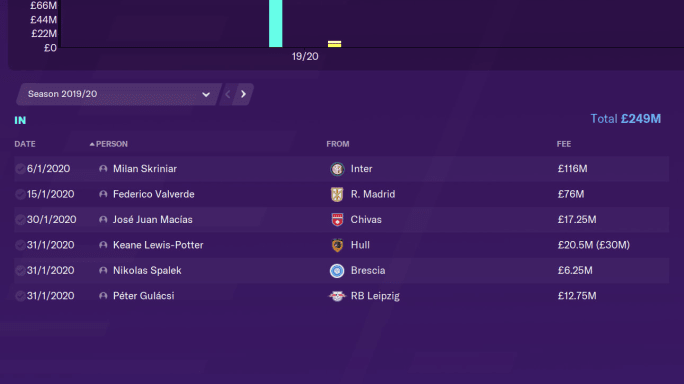 There's a fairly significant caveat to that, which is that we spent £192m on Milan Skriniar and Fede Valverde (what is it with Fede Valverde!?) in January, plus another £60m-odd on Jose Juan Macías, Keane Lewis-Potter, Nikolas Spalek and Péter Gulácsi. That's more like it. We're only three points off Burnley in 7th, that's usually enough for Europe and then we're really motoring. Let's zip to the end of the season... And we've finished three points behind Burnley, in 7th. So...right. Okay. £250m of January spending kept us exactly on pace with Burnley. Good. Thanks Max.
Go and spend some more money, I guess. Oh, wow, that's a summer of spending. £240m of it, more than £100m to Leicester, Moussa Dembele to bang goals for fun, the experience of Rak Daddy on a free, Jonjo Shelvey being sold to Galatasaray because obviously, and we're set up. This is the year we challenge.
Fifth at the end of January! Dembele and Lewis-Potter killing it as a front two! Matty Longstaff still starting games despite the fact that we've spent £144m on the Ndidi-Valverde axis and brought in Rakitic!
Let's have a look around the league – Chelsea are top, they signed Jadon Sancho, Jan Oblak and Sergej Milinkovic-Savic, so that makes some sense. Bentancur and Lenglet in at United, that's fun (but not as fun as them being sixth). Dybala to Liverpool, tasty.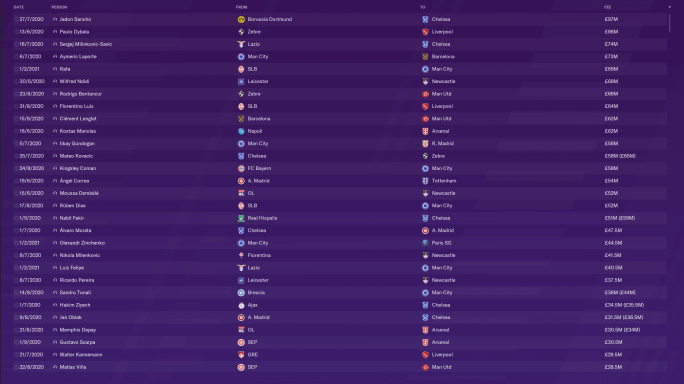 Managers! Marcelo Bielsa's been sacked at Everton, Leicester have sacked Big Brendy Baps, Bournemouth are managed by the Cowleys, Michael O'Neill and Jaap Stam have Premier League jobs, QUINTON FORTUNE IS MANAGING WEST HAM? And...
hang on.
Massimiliano Allegri resigned as Newcastle manager on 30 June 2020, after signing Moussa Dembele, Vitaliy Mykolenko and Wilfred Ndidi, to take the vacant Bayern Munich manager's job.
Lads. Shut the club down. Newcastle United is cursed, and no amount of money can or will ever change that. Over to Toby Cudworth for our next two contenders...
---
Rafa Benitez [Toby Cudworth]: Buggering off after one season isn't what we want. We need loyalty, hustle and respect at Newcastle - christ, maybe they need John Cena - if progress is to be made.
So what better way than to progress than rewinding the clock and handing the reins back to everyone's favourite Spaniard, Rafa Benitez? You want it, the papers want it, we want it - so it's done. With his previous term of employment marred by the club's unwillingness to spend a single pound, this having money thing is unchartered territory for Rafs. But that doesn't stop him on summer deadline day, as we blow a staggering £152m on Wilfried Zaha, Kristoffer Ajer and Max Aarons. Three good players I grant you but wow, that's a lot of cheese!
Despite their arrival, things get off to a pretty ropey start and we fail to win in our opening seven Premier League games. Rafa's job status? Already insecure. But pressure isn't a new thing for Raf daddy and things slowly start to turn around.
Amazingly, our goateed wonder doesn't add to the squad in January and, instead, starts ascending the table with the miserly resources he already has. 12th at the start of the transfer window, the boys - somehow - finish the season in 7th, bagging a multi-stop easyJet ticket around Europe.
Manager of the season? Quite possibly.
Still under pressure and likely to be fired? Probably.
Ready to spend big in the summer? Almost certainly. And by almost certainly, we mean yes - to the tune of £231m. Draxler, Grealish, Morelos, Benjamin Mendy and Junior Firpo headline the nine summer arrivals, with £8m of talent heading out of the exit door - who cares about profit margins, eh?
By the time January rolls around, we're flying high in fourth, six points off leaders Liverpool. Again, the winter window passes by without a signing - Rafa obviously doesn't do silly impulse deals - and faith is instead placed in the chaps at hand.
Unfortunately, Champions League qualification eludes us and we finish 5th on a respectable 73 points. Time to recklessly spend some more me thinks. It's summer 2021 and £283m flows out of the club accounts this time (that's £666m so far for those keeping up), drafting in Pellegrini, Aouar, Handanovic, Asensio and Maddison. Now we're talking!! Zaha and Joelinton are the notable departures, the former finally going to Arsenal for a shade under £50m.
A title challenge incoming, right?
Wrong.
February 1st, 2022 smacks us flush in the face and we're adrift in 10th, 18 points off the Champions League spots and on a run of four consecutive Premier League defeats. An insignificant January signing makes no difference, leading us down a very dark alley. A very dark alley that results in Rafa being summoned before he's told 'YOU'RE FIRRRRRRED!'
His replacement? José Mourinho, who secures a sixth place finish and more Europa League football. Now that's special.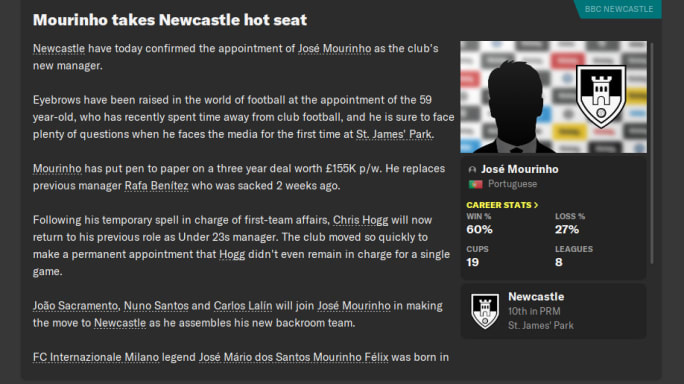 ---
Lucien Favre [Toby Cudworth]: Never mind an authoritative, overthinking tactician, we want creative freedom and goals in charge of this team. So let's appoint Lucien Favre as manager, because the present Dortmund boss specialises in those kind of mischievous shenanigans.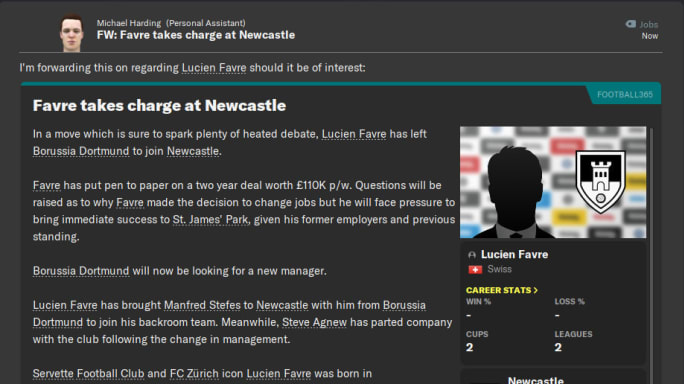 The Swiss sets about his task in typically suave fashion, failing to acknowledge that he has a bulging wallet begging to be spent. Instead, Orkan Kokcu is the sole arrival for a starting fee of just £4.2m. BORING!
What's more boring is that we're doing alright in eighth when January arrives. So there's probably no need to spend big? WRONG.
£263m in total on Skriniar (for £112m!!), Everton (the player, not the club), David Neres, Willian Jose and Sime Vrsaljko means we're now cooking on gas and hunting down a Champions League spot. We don't get it though, obviously, and actually we finish ninth - which is pretty sh*t all things considered. To spice things up, Ruben Neves and Gabigol - along with a few other costly FM worldies - arrive and the club spends £292m in the summer window. Blimey, we mean business now. Or we should do at least.
But no, not even Arthur's arrival from Barcelona on loan in January can inspire a better finish than 6th. Best check the job status and see if Favre is on the verge of being canned. Oh, he's not - he's VERY SECURE. Gonna be a long one this, isn't it?
The answer to that question is yes. Favre signs a new three-year deal and is now contracted until 2024. Waaaa please get us Champions League qualification, win something or do anything to make this worthwhile! Lucien's thoughts on the matter? Nope, not having it. Instead the 2021/22 and 2022/23 campaigns see mountains of cash go out and two absolute bottle job runs of form result in 5th place finishes. That means Europa League footy again and still no promised land. This is all very Newcastle, isn't it?
But, alas, change is in the air. No, not in the league - don't be silly - as once again we end the season in shocking, shocking form, failing to win in our last five games. That results in, yep, another 5th place finish as Manchester United - finally led by someone called Pochettino - steal in and grab the glory. BUT.
Favre does have the Midas touch after all - that no other manager has had so far I may add - and leads us to unprecedented Europa League glory, earning qualification to the Champions League for the 2024/25 season. Knowing he'll never top that, 'Big Luce' walks away at the conclusion of his contract - after FIVE years in charge - and is succeeded by some guy called *squints* Zinedine Zidane. Talk about a step down, amirite?
Over to Scott Saunders for our finale...
---
Mauricio Pochettino [Scott Saunders]: "He's magic! You knooooow! Mauricio Pochettinoooo!"
As the final entrant in this list of five potential Newcastle managers with loads of money, we've gone and stuck old Pochy in the hot seat on Tyneside.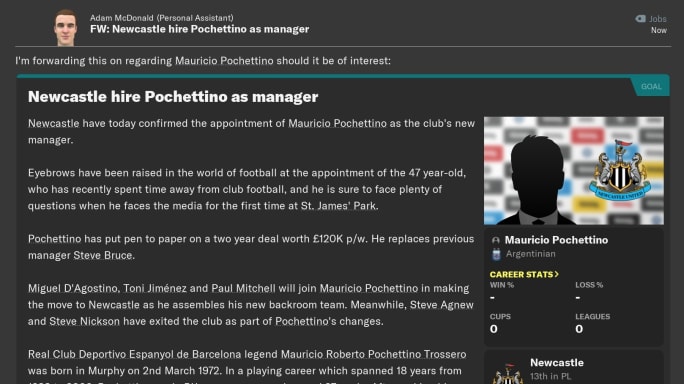 We've all been curious to know this about Poch - just what could he have done with the right financial backing? Daniel Levy never gave him a real shot at Spurs, and given Ole Gunnar Solskjaer's job at Manchester United looks relatively safe, Mauricio decided to jump at the chance to work with some owners who will actually drop him some dollar to take a middling Premier League team up the table.
He pops in on a cool £120k a week and gets down to business, drafting in his old mate Paul Mitchell as director of football to spot some players for him. It doesn't really work, mind, as they both still seem to think it's a good idea to spend £68m on Max Aarons in the first transfer window. The signings of Marcel Sabitzer and Anthony Caci (who? dunno) bring the total in game outlay to £101m. Poch and Mitchell have somehow managed to get £12m from selling DeAndre Yedlin, though. Incredible stuff.
It's not an easy job for them overall, mind you. We find ourselves in 11th in the Premier League after 20 games, adding three players (including good-stats-goalkeeper Dominik Livakovic) in the January window.
I should mention btw that all bar one of their seven first season signings came on either the summer or winter transfer deadline day. Very old school Spurs.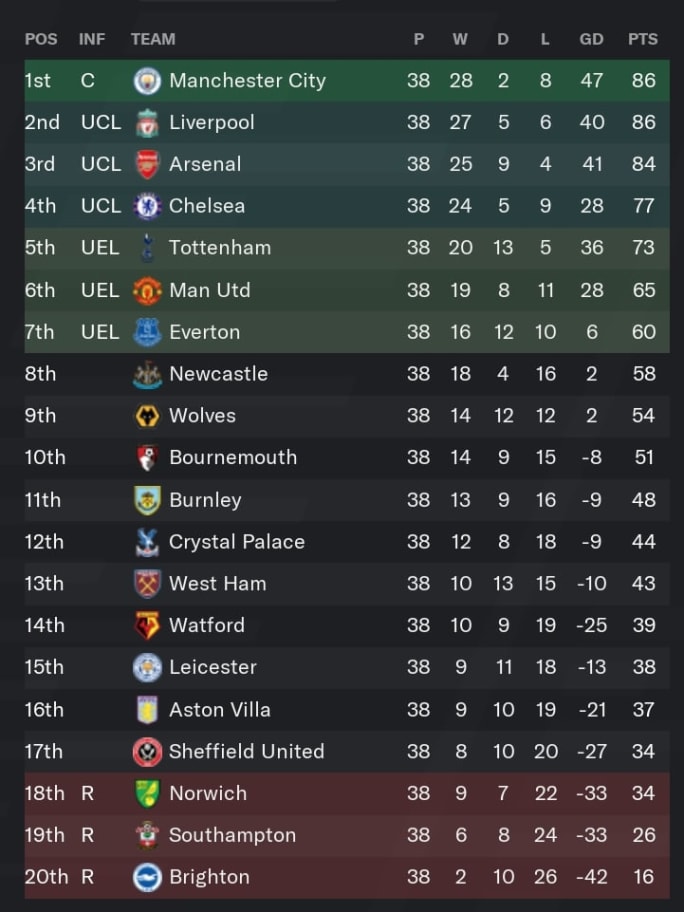 Fortunes turned by the end of season one and we finished up in 8th, with only a League Cup semi-final defeat to Liverpool to shout about for a cup run. At least, however, there was some progress. And that progress was built upon in the second summer with a huge £195m outlay on new players.
Sabitzer, who scored 20 goals in all comps in his first season, was joined by the likes of £66m Rodrigo Bentancur, £59m Malang Sarr, Olivier Giroud, Jesse Lingard and Real Madrid freebie James Rodriguez. And this whole time, Pochettino has been biffing off the deadwood in the Newcastle squad for very little money - raising only £2.5m in summer sales.
The start to our season is pretty grim, but we find ourselves in 8th place by January, nine points back from European qualification places. A great spot of form (eight wins in nine games in all competitions) drags us to within two points of Europe after 25 games, though, and we're now really in with a shout. For that European tilt, we - meaning Poch - back ourselves up by signing Kieran Tierney and Victor Lindelof on loan, while dropping eighty-four-bloody-million on Dayot Upamecano.
And after strengthening that defence, where do we finish? 7th. 13 points off the European places.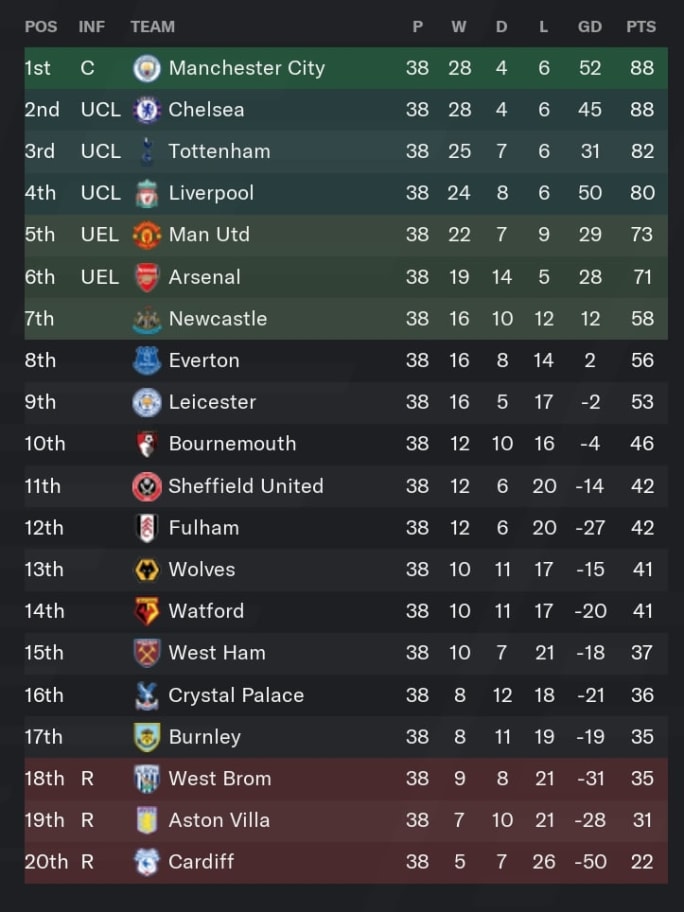 Clearly, a climb of one place and an FA Cup semi-final defeat to Manchester City is not good enough. But Pochettino's job is safe and the answer for Newcastle, here, is more money.
Season three begins with SPENDING. Marcus Rashford joins for £94m (!), Federico Bernardeschi for a fee rising to £69m, Xaver Schlager for £36m, plus Kepa from Chelsea and Nikola Milenkovic among others. Poch has even managed to raise some money by flogging James Rodriguez for £62m a year after signing him for free! (Liverpool also spent £105m on Declan Rice in this window).
It's a much better year for us. We add Rodri on loan in January and find ourselves right in the mix for European qualification two thirds of the way through the season. We go on a monstrous unbeaten run from mid-November to the end of February, and manage to keep our momentum going and beat Man Utd to fourth place on goal difference come season's end.
Pochettino also did this. He won a bloody trophy. MAURICIO POCHETTINO won a trophy. Toby's Lucien Favre save and the Europa League kinda takes the shine away from it, but this is something to be celebrated. And we set out planning to only follow these managers for three years to see what they achieve, but Poch was given a fourth following the progress he'd made in his third campaign.
It was a bad decision. Sacked. You blew it, Poch. After all that time where fans wondered if you could hack it with a shit-ton of money up your sleeve, you fell back down to 7th.
Jose Mourinho, as ever, has the last laugh, as he steps in next. Classic Jose. Classic Poch.
---
Source :
90min