 Gucci headbands, impeccable flair both on and off the pitch and slick dance moves - what's not to love about Newcastle winger Allan Saint-Maximin?
In truth, not a lot.
After an impressive spell with Patrick Vieira's Nice, the Magpies swooped in to persuade the Frenchman to ditch the Riviera for Tyneside in an £18m deal last summer - and even though Joelinton stole all the headlines, he cost in the region of £40m don't you know, it's Saint-Maximin who has the been the talk of the Toon ever since. Striding out for the first time onto the St James' Park turf - clutching onto his new black and white attire - the grey clouds of Tyneside temporarily parted for their new signing. The shirt read ten, a number formerly occupied by Newcastle's last great entertainer, Hatem Ben-Arfa
Since his departure six years ago, there's been very little to shout about on Tyneside. Very little to get the Geordie faithful of their seats in awe and excitement. But Ben Arfa is now a distant memory, with Saint-Maximin bringing back the electricity, the verve and the swagger that every Newcastle fan has longed to see.
With Saint-Maximin comes a strong aesthetic - it's the first thing you notice before a ball is kicked - and it's magnificent. The blonde-tipped dreadlocks, shaved in the style of a mohawk? Yes please. Taking inspiration from the Karate Kid films of the past, ASM wears a headband tied at the back as though the pitch was some type of dojo.
The loose ends of the knot flail in the wind as he darts past his adversaries, which he often does time and time again.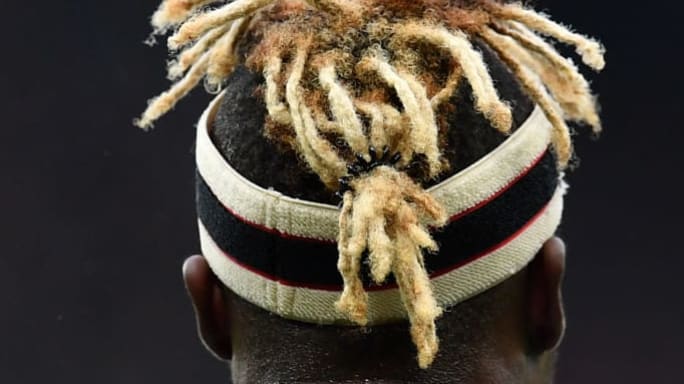 His admiration of kung-fu doesn't just come across in his look, it's there to see in his fast-paced, attack minded approach to the game. Saint-Maximin loves to dribble with the ball, and he's often successful in one-on-one situations. So successful, in fact, that only Wolves' Adama Traore has completed more dribbles per 90 minutes played this season.
The one criticism that's often been levelled at Saint-Maximin is the lack of an end product. The 23-year-old would admit himself that's he often let his side down in that regard, but something's changed since the Premier League's resumption in June.
Now, Saint-Maximin looks likely to make something happen every time he has the ball and he's producing the end product - either scoring a goal himself or assisting. His best showing - the recent mauling of Bournemouth at the Vitality Stadium - demonstrated what he's capable of, as his hat-trick of assists tore apart Eddie Howe's struggling defence.
Success often comes at a price though, and Saint Maximin's recent - and rapid - improvement hasn't gone unnoticed. The player himself now knows how valuable an asset he is to Newcastle, and is said to have become frustrated with the terms of his contract.
His stance is understandable, given he's one of the club's most distinguished players but is also one of their lowest earners. It's Scottie Pippen vibes three decades on.
Newcastle's lack of response to Saint-Maximin's purported unhappiness is surprising to say the least, given his impact on the pitch. The club's everlasting takeover saga may have something to do with it, but with PSG, Arsenal and Tottenham sniffing around, something surely has to give. It's clear to see that he's now Newcastle's most important player, and Steve Bruce has already intimated that he doesn't want to lose Saint-Maximin.
That will be music to the ears of supporters up and down the land, but they'll know - better than any other fan base - that actions speak louder than words. Give Saint-Maximin what he wants, get pen on paper and reap the rewards. If Newcastle don't, the buzz around the north east may disappear faster than Usain Bolt in his 100m pomp.
Source :
90min